Capability Statement
CAPABILITY STATEMENT
we can use diane winston's example as a guide: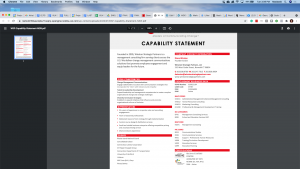 another example of capability statement
Driving Results Capablity Statement
(INTRO)
Founded in 2012 VLN is a consulting,  training, and global media platform.  It is dedicated to creating a workplace environment dedicated to creating agile leadership  and engaged team cultures. VLN provides townhalls, courses, coaching, and media collaboration which to spotlight XXX
CONTACT US:
(web icon) VLNetwork.com/ContactUS
( email icon) Sales@VLNetwork.com
(phone icon)(914)-348-1899
CORE COMPETENCIES
Our Services  including coaching, training, and needs assessment consists of:
Leadership Strategies:
Team and Culture Development
D & I (should we keep this separate or fold this into leadership and team ?)
Media Collaboration with companies and corporations to create unique mindful media to spotlight the qualities that make your organization and team distinct from the rest.
DIFFERENTIATORS
+30 years  training and consulting industry-leading companies
VLN leverages traditional and non-traditional methodologies to produce tailored outcomes to match a company's need
A   global  curated team of field experts bringing skills and unique perspective
a customized scaffolded approach that  provides assessment,  strategy, and execution,
Agile course, coaching, and training design for  a custom fit
Diversity and inclusion expertise through a global lens
and assessment allows to  works with leaders, middle management, and then the full company
 In collaboration with your company creates customized media content which will foster  engagement, buy-in and connections from you stakeholders, staff  and customers
Too many fonts and different size print

The image takes up too much space:

Second picture- next to DIFFERENTIATORS

CONTACT SHOULD BE BIGGER AND MOVED UP TOP

Take a photo of the person on "audiences"

MOVE THE CONTACT INFO TO THE TOP OF THE PAGE BELOW THE ICON ON PAGE ONE

SEE ABOUT THREE VERSIONS OF THE CAPABILITIES STATEMENT

ADD – THE VISIONARY LEADER NETWORK TO THE CAPABILITY STATEMENT– WE ARE THE VISIONARY LEADER NETWORK

MAKE THE FONT CAPABILITIES STATEMENT HEADER FONT– LARGER
BULLET OUT THE POINTS FOR EACH OFFERING
At glance

I am dedicated to helping [eople to train

We established this company 

Something to connect us to customers

MWEB certification

We have helped organized to xxxx more about why we do what we do

So it is clear why we care about 

Make this ONE SINGLE PAGE sheet

Add industry code

Take out some of the images–

This what we can do

Previous clients

Different statements for different industries– 

Expand on Different types of industries

Make the company profiles– would be the same on all of the profiles– explain why i am doing this and why they should hire me

THREE VERSIONS

Digital marketing can be it's on sheet

Coaching and training 

events
Blog Data
*************************************
Social Facebook Data
*************************************
Social Twitter Data
*************************************
Social Instagram Data
*************************************
Additional Media Attached
*************************************
Podcast
*************************************
External Source url
*************************************
Author Info
*************************************
Blog Layout
*************************************
Category Blog