Launching Podcasts Scripts and Social Media Meme and Captions: Heather
WeSocial Media Announcements
Topics:
Grow with Us

Acceptance

SSB

Nourish

Fearless Listening

Languages

Cultivators

Mission

Echo Chamber
___________________________________
Grow with Us
Social Media: Caption
We are far from complete with our own journey and as we evolve and grow, we invite you to come along and experience these changes with us. We hope we will be able to support you with yours as well. We will be exploring new ideas, perspectives, and experiences that may transform our own previous visions, thoughts, and ideals, expanding and progressing them. Our promise is that we will be transparent with you along the way through Fearless Listening Conversations. Thank you for being a part of our Communitea!
Visual Media Inspiration:
Use text in the visual media, but create it in terms of our branding and image that works. This is for VLN so it must be plain and RED. But use an image in the background, not the reference image. 
Somewhere on here have our Motto: Grow with Us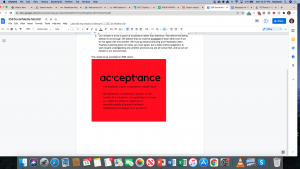 TRR Use TwT text as starting blocks
Podcast: Tea with Traciana
Intro….
Instigation:
As I looking over the launching plan of VLN, I couldn't help but to think about how much it has evolved in the just past year alone. And I'm so grateful I was able to stay open and align myself with flow so that this could happen. 
Flashback:
Thinking back to when the kernel of an idea for VLN was in my head, I definitely did not have a notion that it would become what it is today. My expectation was that VLN was going to be a place for businesses and universities to leverage the Fearless Listening Methodology I developed to become Fearless Listening enterprises. My team and I were creating courses, coming up with tools, and media to support this exercise, but it turned out that was just the beginning. 
As we began to work, it was clear there was so much more we needed to do. It wasn't enough we were addressing the needs of businesses and universities, because we needed to address the human part of it. That's why we created the Wellness portion of VLN to complement the business side because every entity starts and ends with people. 
But even that wasn't enough and by really listening to others and ourselves we knew it was imperative to be global. In order to truly grow, we needed to tap into human intelligence. And so much of that human intelligence was in the voices seldom unheard. So we made it part of our mission to Fearless Listen to as many voices from as many places. And that each of us had something important to share that would nourish one another and create beauty in the world with our words. So Nourish and SBB was born. Nourish is our platform that with the mission that Nourishment comes in all forms, from food to rituals. SBB evolved from Say Something Beautiful, a program with a mission that words have power, and what we chose to say out loud shapes not only who we are, but our world.
You will see within our content and writings that we continually will refresh them with new pieces of information, images, and thoughts because they all deserve to develop and perhaps become more than they originally intended, just like VLN. 
Takeaway:
The VLN today is a more robust and fuller mindful media platform because we weren't afraid to evolve, because we accepted change is a part of what it means to be human, and all organizations are people first. 
Social Media: Caption
Our mission is to be a space of acceptance rather than tolerance. We believe that being tolerant is not enough. We believe that we must be acceptant of each other even if we do not agree with one another. We must go beyond enduring and Fearlessly Listen. Fearless Listening does not mean you must agree, but to listen without judgment, to work toward understanding one another and know we are all human first, and we are all heroes in our own journeys. 
Visual Media Inspiration:
Use text in the visual media, but create it in terms of our branding (use VLN red). This is for VLN so it must be plain and RED. Use VLN font. If you d on't use this image, it must have Acceptance somewhere in the visual asset.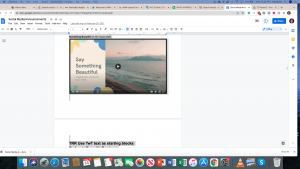 TRR Use TwT text as starting blocks
Podcast: Tea with Traciana
Intro….
Instigation:
The other day I was working with our video editor and it was incredible cataloging all of the video interviews we have on file, let alone the podcasts and written pieces. Our guests range from people we met on the street to celebrities on the hottest shows, to CEO of Fortune 100 companies, all sharing and providing profound insights. Each of them was so different from one another with varied backgrounds, educations, and cultures. Leveraging Fearless Listening Methodology, I was able to lean into the interviews to truly hear their perspectives from a place acceptance their perspectives.
Flashback:
I remember this one interview I had with a guest who I can honestly say was so far removed from my comfort space I had to ask myself if I even knew what type of questions I could or should be asking. And when I did ask a question I definitely did not get an answer anywhere near what I thought the question was invoking. But as the interview progressed and we got into this rhythm and I was able to really listen to him, to hear him out, and understand where he was coming from and how he got where he was and why he thought the way he did. Even though I didn't agree with many things he brought up, it really helped me personally grow exploring these ideas, his logic, and his viewpoints.
And surprisingly by putting aside my own biases through Fearless Listening, there were several core fundamentals we both could agree on, that we both could build upon. It turned out to be one of the best interviews I've conducted because not just what I learned from the guest but from what I learned about myself. 
Takeaway:
One of our core fundamentals at VLN is acceptance. We strive to understand everyone's journey and respect their path. You are going to see perspectives that may not be in congruence with your own values, but that is what makes the tapestry of human intelligence and to tap into that we need to open ourselves to these conversations Fearlessly.
SBB
Social Media: Caption
What you choose to say shapes not only you but the world around you. By Saying Something Beautiful, you are helping to manifest a more beautiful world. We will be sharing Say Something Beautiful messages from around the world and we hope you will share your own SBB and Say it Forward. 
Visual Media Inspiration:
Use text in the visual media, but create it in terms of our branding use SSB colors and branding. Doesn't matter if there is a video or image, but needs to invoke this feel. Must have SBB or Say Something Beautiful on the visual asset
TRR Use TwT text as starting blocks
Podcast: Tea with Traciana
Intro….
Instigation:
I read this post about a woman who was having an awful day. She was in the drive-thru with her kids who were crying and miserable, she was running late and just needed to feed them quickly or she was going to go out of her mind. When she pulled up to the window to pay, she found out the guy in front of her saw what she was going through and paid for her order. She was so moved and that single act shifted her entire mindset. She was grateful for kind people, her kids, being in that moment. It made me think about when people say Pay It Forward, I think it means a lot more than just actions. I think it can be done with words too.
Flashback:
I recall years ago when I started an anti-bullying initiative called XXX, the part that resonated the most with the audience and participants was Say Something Beautiful. I knew it was something special because of how it engaged everyone that participated. I made these note cards had this on it: Xxxx xxxx (Please put in the words from the note cards I don't remember the exact words)
And the responses I got just floored me. Talk about profound. In fact, it went so much further than just anti-bully, these Say Something Beautiful statements were creating this amazing world of support, honesty, authenticity, volubility, and love for the world. It didn't just help the writer, it was paying it forward to the readers who then were inspired to say their own Say Something Beautiful statements. It just became its own thing.
Fast forward a few years and here I was developing VLN and even with all of the courses, mindful media, and content I felt like something was missing. The more that I was trying to push through with what we had, the more I felt this strong inner voice was me telling me to listen. And the moment I did, I got that aha moment. You know where something is so crazy simple you wonder why you didn't think of it before? That was what SBB was for me.  
While the team and I were focused on ways to help others grow, develop, nourish themselves, their passions, and their endeavors we were missing a way for ourselves, our guests, and our audience to directly communicate messages of resilience, Fearlessness, support, growth, love, and beauty. We needed a way to Say It Forward. And that is how SBB became a part of VLN.
Takeaway:
SBB is an integral part of VLN. It is our vehicle to spread the messages that need to be said out loud. Now we have various forms of SBB; from our postcards, feature guests, contributors, to audience members. We're so excited to launch with VLN with SBB, because it truly represents what VLN is all about, emotional, spiritual, and human intelligence.
Nourish
Social Media: Caption
Nourishment comes in all forms, from various places, through a variety of voices, and multitude methods. Whether you need to nourish your soul through Wellness or to nourish your passions and creativity in Business, or simply to nourish your body with food, it's important to think holistically. Your whole self. We will be sharing recipes for Nourishment from around the globe as well as even from your own area.
Visual Media Inspiration:
Use text in the visual media, but create it in terms of our branding Nourish General.  Use whatever image that works for this, do not use inspo image below. Must have NOURISH somewhere on the visual asset.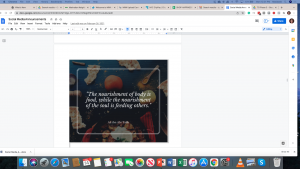 TRR Use TwT text as starting blocks
Podcast: Tea with Traciana
Intro….
Instigation:
Last night I was in the kitchen getting dinner together and it dawned upon me in the middle of everything that I did not have a single real vegetable in the mix, nothing green. I went back in the fridge and grabbed a head of broccoli and steamed it real quick. We all know how important it is to make sure we have a variety of nutrient rich foods in our diet, but how many of us practice this in all parts of our lives?
Flashback:
Thinking back to our platform Nourish, it is so oddly funny how it came to be because it was like it had always been there, just sneaking around without a name. Putting VLN together, we had all these great insights, mindful media, advice from the best in the field, but they were pretty spread out and put under different boxes, nothing really cohesive. But there were always there. They were core to who VLN has been since day one.
Then in a meeting with the team discussing the layout and what each of the content was, it just came to us that all these were a form of nourishment. All the advice and how-tos were helping others nourish their creativity, their passions, their wellness, and happiness. So bam, Nourish happened. And for a while as we were putting all the assets together it seemed to be enough, but a question kept creeping up. Something that was a part of our mission, raising voices often unheard.
All of our Nourishes were from recognizable names, people who we would deem to be traditionally successful. But is that the only place that nourishment existed? We had to do some Fearless Listening ourselves at this point. And the answer came to us because it had always been there, everyone had something to share to nourish others. So we made Nourish global with cultivators around the world finding and sources profound nourishments from some of the most tucked away corners of the world. We got recipes for wellness from nomads in Morocco to business nourishment from a rickshaw driver with each of them teaching core lessons. And of course, to be holistic it is absolutely necessary for us to have Food Nourish. Real recipes of foods that not only nourish your body, but your soul.
Takeaway:
One of our pillars has always been you need to nourish your inner core if you want to accomplish anything or stand up to any turbulence. I learned from my own journey when I was diagnosed with cancer, the importance of nourishing your whole self, body, mind, and spirit. And that's why VLN has three components to Nourish: Wellness, Business, and Food. And we feature nourishments from titans of industry to a towel girl from Jamaica because all their recipes of Nourishment are equally important And all are part of Human Intelligence.
Fearless Listening
Social Media: Caption
One of the hardest things someone can do is listen to someone else without judgement. This is putting your own biases aside, being open to thoughts and ideas that contradict your own, and still being able to stay open. Fearless Listening is not just a methodology, it's a muscle. The more you practice the stronger you will become. We will share with you Fearless Listening Experiences, Conversations, and Support to help you with your journey.
Visual Media Inspiration:
Use text in the visual media, but create it in terms of our branding VLN Branding Use whatever image that works for this, do not use inspo image below use something that invokes the same feeling and use VLN font. Must have Fearless Listening somewhere on here.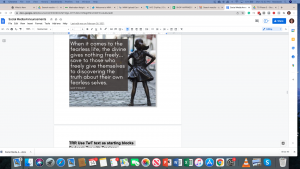 TRR Use TwT text as starting blocks
Podcast: Tea with Traciana
Intro….
Instigation:
I'm always amazed at these articles I see online. I'm sure you see them too, DO these 10 steps to change your life forever! I always wonder why it's always 10 steps? Recently, I've noticed that they are 7 steps now, I guess it's getting easier maybe? And I guess the biggest question is, has any of these quick tip tricks worked for anyone? Thinking about my own personal journey, I can't tell you how many steps I'm on right now. 10,000? A 100,000? Maybe more? All that I know is that I have yet to find that one secret trick that makes everything better right away.
Flashback:
Even before I developed the Fearless Listening Methodology, I was on this Fearless journey. Actually, if I remember it right, it started when I got diagnosed with cancer. I was making my way through life, things were lining up the way I thought I wanted them, concerts, filled stadiums, my own radio show, pretty much just living it up. But the moment I hit real adversity everything came crashing down like a house of cards. That's because I didn't have a strong inner core to keep me on my feet. When it came down, I fell hard. I escaped to an ashram and hid myself from the world, even my own diagnosis. And as I failed over and over trying every method going as far as a vow of silence to find that inner peace nothing was working. T
hen one day something just seemed to switch on inside of me. It became so clear. So incredibly clear that the reason none of the previous methods I had tried worked was because they only addressed one thing at a time. They either focused on spiritual healing, emotional mending, or human connection, but never all together. And there was no way I was going to be able to stand on a one legged stool, or even two. I needed to figure out how to bring all of it together. And that's where Fearless Listening was formed, from the need of Spiritual, Emotional, and Human Intelligence working in collaboration with each other. I leveraged my decades in the academic and wellness studies to hone and fine tune Fearless Listening. This methodology allowed someone to utilize proven practices across numerous fields of study and was flexible enough to be personalized to each person's needs. The core principle being able to Fearlessly Listening to others and more importantly yourself without judgement in order to truly know and understand oneself and one's needs. 
Once I was able to Fearlessly Listen to myself, I was able to clearly define what I needed to nourish my core, to build my foundation, to understand what I needed not only to be successful to be able to withstand any adversity. And unlike those quick tricks, Fearless Listening is one of those things with a few steps and you're done, it's a lifelong practice. 
Takeaway:
Fearless Listening is the core foundation that VLN is built on. Every part of VLN is currently and will in the future be based on this foundation and tapping into the Flow created by leveraging it. As we grow and share our journey, we hope you will be able to incorporate it into your lives as well. And again, it's not something you can get done in a workshop, it's a journey. 
Ali ibn Abi Talib
Ali ibn Abi Talib 
Languages
Social Media: Caption
We believe some things are global. That's why we take extra steps to make our content as accessible as possible. Our talented multi-lingual international content contributors translate their submissions in several languages so it's not one-directional consumption. After all, some things go beyond languages and borders, some things are universal and those are the things that we at VLN will be exploring Fearlessly.
Visual Media Inspiration:
Use text in the visual media, but create it in terms of our branding VLN Branding Use whatever image that works for this, do not use inspo image below use something that invokes the same feeling and use VLN font. Must have the word Languages on here.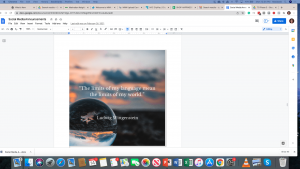 TRR Use TwT text as starting blocks
Podcast: Tea with Traciana
Intro….
Instigation:
Something some people don't know about me is that I speak French fluently. It's something I don't actively think about all the time, but what I do notice is that sometimes there are words or phrases in French with no equivalent in English and vice versa. Like when someone says something to you and you come up with a witty comeback at 2 am in bed, far too late. L'esprit d'escalier! The literal translation in English is staircase wit, which doesn't quite cover all emotions and feelings you feel at 2 am. 
Flashback:
As we were putting together the content for VLN, it became pretty obvious that this was going to be a global initiative. Whether that was collecting SBB messages from all parts of the world to the film footage of our Food Nourish content from various countries, we needed to be respectful of the culture and languages all the content was coming in as. It wasn't good enough to have Google translate everything to English, because it would miss the character, the nuisance, the passion that the contributors were putting into their work. So we made it a point to have our content be multilingual to reflect our contributors. Therefore there are some pieces that are translated into two languages, others three or more, and that's because we feel it's important the message is not diluted and can be shared with as many people as possible in their native tongue. 
And honestly, it felt like the most natural thing to do. When a contributor sends us their Wellness Nourish about how a certain song she sings from her culture helps her lift up her spirits, it felt like a disservice to only have it published in English and lose some of the beauty created by her naturally spoken language. We strive to avoid "otherizing" people and cultures. Of course, we are far from perfect at this and we are learning all the time, but our mission to stay open and evolve still remains true.
Takeaway:
Today we have xxx number of languages represented on our website and growing by the week. As you read through our content, watch and listen to our mindful media, we invite you to take a peek at the same content presented in various languages. Perhaps, it will help to open up a new world for you and you can connect on a whole new level leveraging your Emotional Intelligence.
Cultivators
Social Media: Caption
What makes a cultivator? At VLN, a cultivator is not just a contributor, a cultivator is someone that nurtures and nourishes those around them as they curate slices of life. We have been fortunate to connect with cultivators from around the globe who have chosen to share their stories, their perspectives, and their journeys with us. Not only that, some have gone beyond and sought and curated other voices often unheard to give us glimpses of their worlds that many have never seen before. 
Visual Media Inspiration:
Use text in the visual media, but create it in terms of our branding VLN Branding Use whatever image that works for this, You CAN use the image below or something better, use something that invokes the same feeling and use VLN font. Try not to use red overlay. Use VLN red graphic assets. Must have Cultivator stand out and on the visual asset.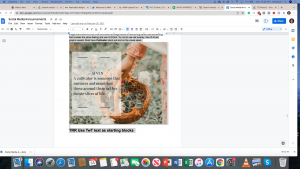 TRR Use TwT text as starting blocks
Podcast: Tea with Traciana
Intro….
Instigation:
When I'm watching a documentary or newscast I'm always moved by the stories that come directly from the people involved. I mean, there are amazing presenters out there who are polished and speak with just the right tone and the right delivery, but they never quite seem to have the same impact of hearing the words from those actually living their journeys. 
Flashback:
One of the things we are actively trying to do at VLN is not over-explain. What we've come to realize is that sometimes more is just more and does not actually add more. We get these amazing Say Something Beautiful submissions that on the surface seem to be light, plain, just a few words, little detail, but when you read them your heart gets flooded with emotions, from joy to sorry to empowerment to all kinds of things. Sometimes when you have something so poignant to say, you don't need to say a lot to say so much. 
Our cultivators present their authentic selves, perfect and imperfect, but that's what makes them real. In addition, we hope you will be able to feel the genuine passion in their own words and the images they share. 
But the best part of our cultivators is that it rarely ends with their own stories. Many go on to cultivate stories and journeys of their friends, neighbors, family, or even strangers because they know the importance of sharing these stories with others. These stories nourish our souls, our hearts, and minds, opening us to see other possibilities that we may have never been able to reveal without them.
Takeaway:
Our global cultivators show us how there is beauty everywhere, and how we can find nourishment anywhere. As they cultivate these stories with us we have seen them flourish by creating their own support networks and workgroups. One of the key objectives of VLN is, as our cultivators nourish us and our audience we reciprocate. Because nourishment comes in all forms, whether it's an emotional, spiritual, or human need, it's important for us to fulfill their needs holistically as they do for us. With that in mind, we will be launching The Nourishment Foundation, which I will cover in another podcast.
Mission
Social Media: Caption
VLN's core mission is lifting voices often unheard. We believe in emotional, spiritual, and human intelligence, that there is unique knowledge, skill, and ability within each of us and it should be shared with the world. However, not everyone has a personal platform to share these distinct insights therefore we at VLN strive to advocate and make spaces on our platform for all. We have stories of journeys of nomads in Morocco, rickshaw drivers, to CEOs from companies you buy from now, to celebrities you watch on TV, but we ask questions and get answers often unvoiced. We are all ONE.
Visual Media Inspiration:
Use text in the visual media, but create it in terms of our branding VLN Branding Use whatever image that works for this, You CAN use the image below or something better, use something that invokes the same feeling and use VLN font. Try not to use red overlay. Use VLN red graphic assets. Must have the word Mission on the visual asset.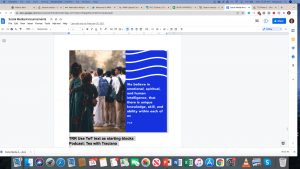 TRR Use TwT text as starting blocks
Podcast: Tea with Traciana
Intro….
Instigation:
Looking at my career and where I am now, I'm grateful to have a platform to say what I need to say to the world. Before I was able to use my singing voice to invoke emotions, ideas, and thoughts, later I was able to use my spoken voice to inspire, move, and change perspectives. And now with VLN, I am able to raise the voices of others. I feel like this has been my mission my whole life, and once I tapped into flow and let this manifest everything lined up and VLN was created.
Flashback:
VLN was born in the narrative that each of us possesses a unique form of intelligence and that we are all connected. Once we reveal this to ourselves we can tap into this unlimited intelligence potential. In this case, more is not just more, it's exponential. We also believe all forms of intelligence are equal and must be treated so. The rituals a person has perfected to connect spiritually, to the steps that a founder of a tech firm took to launch their company, to the method of how a woman grinds her own spices for her family's meal, to even father who's practice of compassion and empathy allows him to relate to his teenage daughter, each of these intelligences hold value and nourishes various core fundamentals within us all. 
And as we allow ourselves to be open through Fearless Listening to these connections, we will be able to leverage all these intelligences and nourish our cores so we may manifest our own personal potentials. 
Takeaway:
We will be sharing stories of Emotional, Spiritual, and Human Intelligences in varying forms and journeys. And our hope is that you will see how we are all together, connected. And see how they may interweave and help in surprising areas of your life. We've seen how the emotional intelligence shared with us from a "towel girl" from Jamaica could help a business owner understand this staff more deeply and create a more healthy and productive space for everyone. Stay open, be Fearless. 
Echo Chamber
Social Media: Caption
One of the key fundamentals of Fearless Listening is doing so without judgement. Which means, setting aside our own biases and beliefs to truly listen to one another. At VLN, we believe in lifting voices often unheard and this may mean even just outside our own echo chambers. Whether we mean to or not we tend to create networks of people with similar train of thought which inevitably creates echo chambers, people who agree with us. We will be presenting guests, stories, and journeys you may not agree with and may make you feel uncomfortable. But that's okay. Being uncomfortable is when you know you are expanding outside your comfort zone. We present these varying perspectives because we want to show that we are all connected, we are all here together, and that we are all human first. We invite you to listen Fearlessly, especially to those voices often unheard in your world.
Visual Media Inspiration:
Not sure what I want for this visual post. I just want the sentiment of us breaking free of the echo chamber. Use VLN colors and font, use whatever image seems to invoke the same feeling, open the any visuals for this. Must have the term Echo Chamber in it.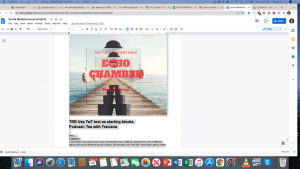 TRR Use TwT text as starting blocks
Podcast: Tea with Traciana
Intro….
Instigation:
I have been interviewed and I have interviewed a lot of different people from a lot of different places with lots of different points of views. But through it all I feel like I have been able to make connections because I was able to go into these conversations with Fearless Listening. It was always important for me to listen Fearlessly, to be open to every situation, find the connecting threads. I believe we are all connected and when we reach in and feel that, that's when things hit that magical flow. No matter who it is that you are speaking to there is a way to stay open. Now this doesn't mean you have to agree with anything they say, it just means understanding where they are coming from and how they got where they are and who they are. 
Flashback:
As we were building VLN and curating our content we had to take time to make sure we weren't creating our own echo chamber. We actively assessed ourselves and our own biases when selecting guests, articles, and media. In addition, we did not want to say that every story had two sides and they were of equal in merit, because that's just not true. What we wanted to do was include voices and narratives that we may not hear within our networks, but presented in a way it told the journey of the narrator rather than specific positions. We can agree some positions have more merit than others, but we must also agree every person is of merit. 
Many times we see how surprised people are to find that many people do not agree with them, because all their family, friends, co-workers, and neighbors do. When we do not go outside of our own comfort zones and entertain ideas and voices that are unlike our own we narrow our worlds, our minds, our hearts, and souls. In order to practice compassion, we must be compassionate to those with differing opinions as well. 
Takeaway:
Therefore, we will continue to feature voices you may not agree with, but we hope you will push through your comfort zone and leverage Fearless Listening to listen with compassion. We definitely have had guests that hold opinions and positions that do not align with our own; however, we were able to connect and learn from their personal hero's journey and gain incredible insight tof Emotional, Spiritual, and Human Intelligence. 
Blog Data
*************************************
Social Facebook Data
*************************************
Social Twitter Data
*************************************
Social Instagram Data
*************************************
Additional Media Attached
*************************************
Podcast
*************************************
External Source url
*************************************
Author Info
*************************************
Blog Layout
*************************************
Category Blog