Social Media/Content for SSB- Heather
SSB Week 1 Flow 
Before the First SSB Post 
Legend: CT- Contributors VSM- Visual Social Media Posts UGC – User Generated Content 
Get CT through Traciana personal OutReach 

CT through Dubsado 

Schedule Facebook Live with each CT 

Create Facebook Live Event in SSB Page (See attachment) link to how to:

https://

www.facebook.com/business/help/2087325741287572?id=1123223941353904

5. Create VSM from CT's UGC 

Cross Post Event in Al Social Pages 

Send personal invites to everyone to the event. 

Schedule Posts according to Live Schedule 

a) All Posts on SSB 

b) Cross Post to each relevant Social Page e.g. Corporate to VLN et al After First Post 

Create 2nd VSM about each of the featured CTs= their bio, brand, or business with  reminder of the scheduled Live.  
e.g. of the VSM 
" Jane Smith struggled to realize her self worth and when she found out how to know her value  he create Jane Says, a web-Zine that helps others to find theirs. Join Traciana on Thursday at  10:00am to find out just how Jane did it!" 
Let us know you're coming: 
 xxxx.facebookevents.com 
Create 3rd post for each of the CT and post on each of the relevant pages on what  Traciana is looking forward and also ask if people have questions for Jane for Traciana to ask. 
e.g 
JANE SAYS CEO Live on Thursday at 10:00am 
"I can't wait to find out what Jane Smith's secret was to overcoming her xxxx and what  inspired her to create Jane Says. Do you have anyones you'd like me to ask?" 
xxxx.Facebookevents.com 
IMAGE of Jane Says Brand 
3, Day of each of the Facebook live, sent out invitations again with 
 "In 1 hour we will be talking to Jane Smith about self worth. Don't miss this opportunity to  learn how you can know your value" xxxxfacebookevents.com 
Host Facebook Live 
 – Engage with the audience

-Let jane plug her brand, website, book etc. 
Finish with we will be hosting many more of these insightful SSB Lives. To make sure you don't  miss out like and follow our page. In addition we will be launching many more endeavors like  SSB from VLN. 
Save the Live = repurpose it for the website and later social media 

Post a few days later. 
"If you missed Traciana's Live with Jane Smith you can watch it here (Need space where all the  Lives go) 
Other non direct CT VSM like Podcasts: 
Need to discuss flow. 
Attachment 1
xxxxx
We need Visual Assets for this
What you choose to say shapes not only you but the world around you. By Saying Something Beautiful, you are helping to manifest a more beautiful world. We will be sharing Say Something Beautiful messages from around the world and we hope you will share your own SBB and Say it Forward. 
 (This needs to be in SSB Style)
Our mission is to be a space of acceptance rather than tolerance. We believe that being tolerant is not enough. We believe that we must be acceptant of each other even if we do not agree with one another. We must go beyond enduring and Fearlessly Listen. Fearless Listening does not mean you must agree, but to listen without judgment, to work toward understanding one another and know we are all human first, and we are all heroes in our own journeys. 
This needs to be recreated in SSB colors.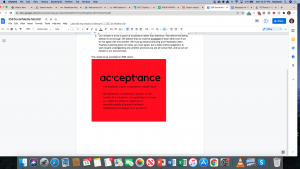 Blog Data
*************************************
Social Facebook Data
*************************************
Social Twitter Data
*************************************
Social Instagram Data
*************************************
Additional Media Attached
*************************************
Podcast
*************************************
External Source url
*************************************
Author Info
*************************************
Blog Layout
*************************************
Category Blog