EVENTS/SPONSORSHIP DECK/SHEET
COPY WE WILL NEED:
Good copy– to use where ever you can in the following marketing sheets for VLN:
CLIENT SHEET–

VLN MARKETING /BRAND SHEET THAT WILL BE USED FOR

PARTNERSHIP DECK

VLN GUEST MEDIA KIT

VLN MEDIA KIT

EVENT DECK– that will be used for sponsors
"Women, minority-led with a global team whose mission is to uplift uncommon voices around the world and weave them into our daily ethos in both personal and professional endeavors."
As a sponsor — don't you want to sponsor- developing and future-proofing leadership?
Cut and paste– our performance CEO "how in order to be a great leader- you have to have a balance of your person, you need to understand what Happiness 360 and bring that into your life, You can't be a great leader if you don't have the balance in your personal life and you need to see beyond your horizon.  What is the future definition of leader and team mean today? How can you future-proof yourself? how do you future proof your leadership– you do so by being able to look through the lens of other people.  Fearless listening — also being able to hear criticism and critique. take critique personal is personal. because everything we do is from our person. once we strengthen our core we are able to grow from hard times when it is personal critique so we can grow from it and not be cut from it.
For more information:

(web icon) VLNetwork.com/ContactUS
( email icon) Sales@VLNetwork.com
(phone icon)(914)-348-1899

MEDIA KIT/SPONSORSHIP DOWNLOAD
SPONSOR AND ADVERTISING TEXT YOU MAY WANT TO ADD
As an extension of the deep work we've done with clients in the private and corporate sector, we have created The VLNetwork.
The VLNetwork is a global digital platform that caters to the needs and desires of our exclusive worldwide audience, which includes the C-Suite of fortune 500 companies, appreciates access to the resources we curate which affords them an exceptional lifestyle as well as access to brands and resources that permit them to work more effectively in their demanding roles.
The VLNetwork's Web Episodes, Podcasts, and Articles feature the insights from top company leaders from around the country such as Microsoft, Toyota, Jackson and Lewis, Verizon, and Wells Fargo, Oppenheimer, Black Enterprise, Hispana Global, Hallmark, SheKnows Media, MeetUp.com, C-Suite Network, as well as the Mayor of Baltimore. The VLNetwork interview guests feature a combined following of 2.3 million+.
Things to update

P.1 Brand vision: Original Content, Training & Coaching, Events

P.2THE VISIONARY LEADER NETWORK provides thought leadership, training, town halls, and event series focus on an engaged and productive workforce.The VLNetwork is a global mindful media, and training platform that produces content, connections, and customized training to help companies develop fearless listening (registered) leadership cultures. We support leaders of large-scale organizations who are seeking to unlock the hidden potential of every team member to foster greater productivity and innovation.   We afford entire organizations with essential best practices to enhance agile leadership and deeper personal connection through our Happiness 360 technique.
 Circle should be 50 -50 Living /Performance and "campus should overlap both– Heather will sketch this)

P.3  We can keep this copy as it– or swap out the copy that is used for the OFFICIAL BIO on the PR page
P.4  We will determine which other people to highlight and which name should be taken out
P.5 We should consider at this copy

"Women, minority-led with a global team whose mission is to uplift uncommon voices around the world and weave them into our daily ethos in both personal and professional endeavors."

P.6. determine how to best update this copy– based on the main client sheet we have as well
P.7 We will delete
P.8– this can be updated with our event over copy:

ONE SOUND ON EXPERIENCES & EVENTS  

Our One Sound On Townhall Experiences & Events, offered in both in-person and virtual gatherings, allow our global community the opportunity to meet their immediate, and connectivity needs. All of our personal development experiences and events are geared towards personal realization for your happiness 360 journeys on all levels. We focus more pointedly on exploring the untapped potential and greater mindfulness while stressing the importance of self-awareness. Our One Sound On Experiences and Events also draw emphasis to helping individuals realize, develop and draw from their full selves.  VLN embraces a connection with you.

Our One Sound On Experiences and Events include:

VIRTUAL GATHERINGS

Customized  webinars
At-home summits
Townhalls experiences

For information about our virtual gatherings and summits click here.

IN-PERSON GATHERINGS

Healing events
Townhalls experiences
Retreats

For information about our in-person gatherings click here.

OUR ONE SOUND ON  EVENT TECHNIQUE

Our One Sound On Experiences and Events leverage our Fearless Listening Methodology and One Sound On Technique. They feature visionaries who share candid, disruptive conversations for vanguard insights and resources. Our One Sound On Townhall Experiences & Events, follow The VLNetwork editorial calendar which curates Happiness 360 conversations.  The diversity in our event types allows attendees to engage in methods that resonate best with their preferred style of communicating and building connections.
All all marketing sheets – should be:
(web icon) VLNetwork.com/ContactUS
( email icon) Sales@VLNetwork.com
(phone icon)(914)-348-1899
xxxxxx THIS WILL WAIT UNTIL LATERxxx
EVENT DECK (WAIT)
Daniel Version https://drive.google.com/drive/u/0/folders/1_B2lSTBj9D51oToS46ZF48EKsTmfqa_O
Denayha version: https://drive.google.com/drive/u/0/search?q=event%20deck%20vln%20pitch
OLD EXAMPLE OF SPONSORSHIP AND GUEST DECK:(WAIT)
available on Canva: https://www.canva.com/design/DAEhjmTBkpg/y55y5QMMkAcmGFsQ5bt26g/edit
ht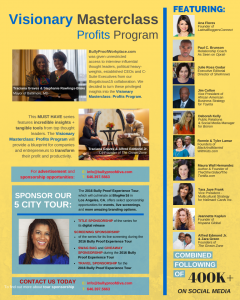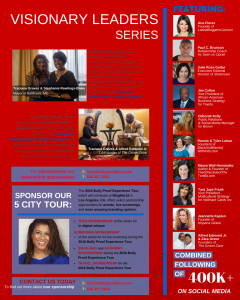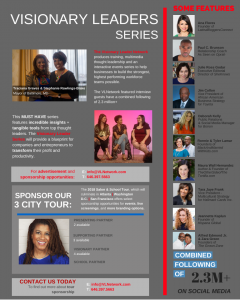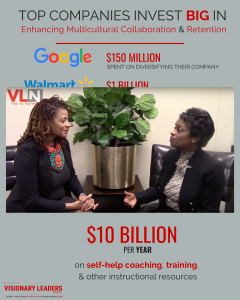 /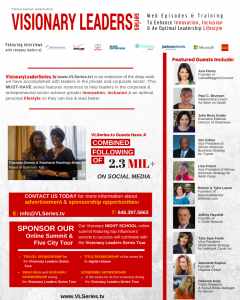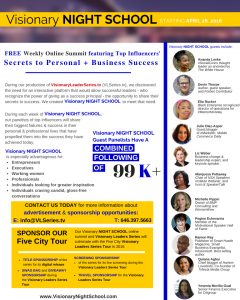 Blog Data
*************************************
Social Facebook Data
*************************************
Social Twitter Data
*************************************
Social Instagram Data
*************************************
Additional Media Attached
*************************************
Podcast
*************************************
External Source url
*************************************
Author Info
*************************************
Blog Layout
*************************************
Category Blog